Latest News Page 1
1 | 2 | 3 | 4
17 November 2017
Final free-standing honeymoon suite open
Our last free-standing honeymoon suite is finally open - and what a gorgeous space! We are in love with the romantic feel this suite has - it's so cosy and welcoming, even we don't want to leave!
4 November 2017
Outdoor shower? Don't mind if we do!
These gorgeous hidden outdoor showers are in our new lux suites - don't worry, there's a huge indoor shower for those who prefer the decadence of four walls! But who can resist a sneaky outdoor shower if it looks like this?
3 October 2017
Afristay Best Value Establishment 2017
We have been named one of Afristay's Best Value Establishments of 2017!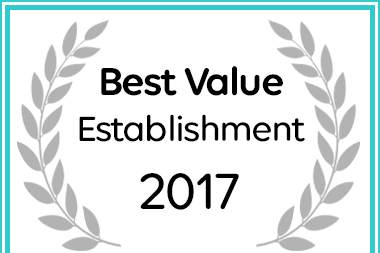 Afristay
has named Tamodi Lodge and Stables in Plettenberg Bay a Best Value Establishment.
27 September 2017
Tamodi has been named as one of the best forest and treetop retreats in the Cape by the Inside Guide. Read the great write up here »
1 September 2017
Fantastical spring dip in Plett
What do Plettonians do to raise funds for really great causes? Why, they dress up in strange outfits and take part in a fantastical dip in the ocean! Happy Spring Day, everyone! Well done to all who participated to raise funds for the Plettenberg Bay Crime Prevention Association!
30 August 2017
iescape
i-escape.com just named us as one of their favourite hideaways! How awesome is that? We totally agree that Tamodi is the perfect place to escape for a few nights: unwind, relax and recharge!
9 August 2017
New hiking trail
Today we decided to forge a new hiking trail in front of the lodge. What a rewarding experience because wow, did we discover some incredibly magical spots on our new trail! Do these pics not make you want to come and hike with us? Absolute perfection found on our doorstep, and boy do we feel lucky!
21 June 2017
TripAdvisor Certificate of Excellence 2017
We have once again been awarded the TripAdvisor Certificate of Excellence for 2017! This is awarded to businesses that have consistently received strong praise and ratings from travellers throughout the year.
13 June 2017
There is an amazing article about us from National Geographic Traveller UK! We love seeing our beautiful establishment mentioned in articles like these.
"This passion is reflected in the carefully designed main house, suites and stable buildings, all of which blend in with the bush and natural environment. The setting is peaceful and relaxing, with seven luxury suites. There are two bird decks on the farm, mountain biking opportunities are close by and Keurbooms' beaches are only three minutes away. The pristine sand and extensive forests inspire many a birdwatcher, sunseeker, hiker, mountain biker, animal-lover and adrenalin junkie."
27 April 2017
Inaugural Ride of Cross Cape Cycle Route
Exciting news! An invitation to join the inaugural ride of the Cross Cape. This is the first route of a cycle route network mapped by the Western Cape Government to grow cycle tourism. Start Date: 12 May 2017 in Plettenberg bay. In total a 742km journey, you can choose to ride it all or only part of it.
15 March 2017
This winter we will be building two Lux Honeymoon Suites. They will both be in one building off a central lounge and patio but designed for privacy (see architectural rendering below) . These Lux suites will each have private plunge pools. 
Taking bookings from 16 November 2017.
21 July 2016
The Robberg Peninsula is a nature reserve and national monument that lies about 8km south of Plettenberg Bay. It is a beautiful and remote rocky peninsula, one of the most popular walking destinations in the Garden route.
23 June 2016
Central Beach
Often the busiest beach in Plett. Life guards on duty in season. It's the launch site for Marine Safaris, dive charters and ocean kayaking tours and facilities include restaurants, bars, public toilets and the local National Sea Rescue Station; 2 km / 2 minutes from Plett Central.
Lookout Beach
– Blue Flag Status
Formerly Plett's most iconic beach, this area was washed away during the 2007 floods but has returned even more pristine within the past three years. This is now popular for long walks along the ocean side. This has also become a fantastic sun bathing spot, great for surfing and body boarding and has ample play areas.
9 June 2016
The pansy shell is an icon for Plett and is the symbol for the Bitou Municipality.
Although they are called 'shells' they are in fact skeletons of a sea urchin. They are flat sea urchins and feed on microorganisms in the sand.
Pansy shells prefer fine, well sorted sediment that is mostly found in log-spiral bays of the southern and eastern coasts of South Africa. Read more »
8 April 2016
During June and July Tamodi Lodge is promoting a fun weekend to taste the local Plett Food and Wine delights. We will assure you a cosy, warm and relaxing stay in the Mountains.
We can accommodate a minimum of 4 singles or a maximum of 8 Guests sharing.
28 January 2016
Guided Hike from the Lodge
We have built a second bird viewing platform a bit further away from the first, this one gives a different view of the surroundings and is less shaded by vegetation. You can find it during our Guided hike. We do the hike in the morning before breakfast, approximately twice a week. Be aware that it is a quite a steep walk down to the river and a tough climb back up.
14 January 2016
"Only once we walked through, experienced its grand proportions and headed out the other side did we realise what a gem we'd stumbled upon. Arriving on the massive wooden terrace, our jaws hung open at the scene before us." – From an article in last month's Kulula magazine. You can read the full article here.